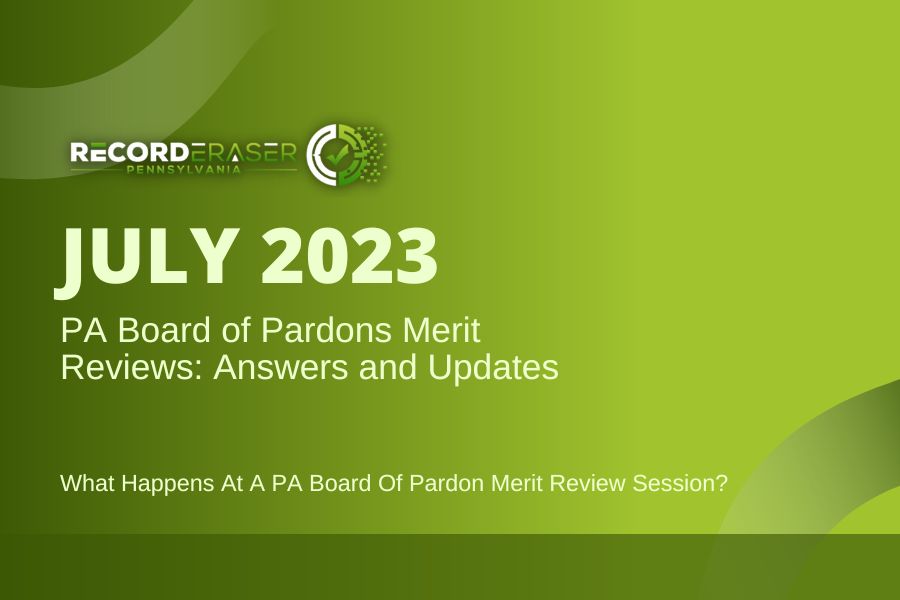 As early as August 2023, the PA Board of Pardons will make more efforts to expedite the pardon and expungement process. After reviewing hundreds of cases, the board has recommended most of the applications for review by the governor. This new phase offers hope for those who want to clear their criminal history and start with a clean slate.
If you are interested in learning more about the latest news for the pardons and expungement processes, we're sharing some informative updates. Keep reading to learn more.
Recent PA Board of Pardons Update
In June, a significant milestone was achieved as the board thoroughly reviewed over 300 cases in just three days. This impressive accomplishment showcased the dedication of the board to address the backlog of cases and provide deserving individuals with the chance to rebuild their lives.
More than 80% of these cases received recommendations to the governor for serious consideration. When an applicant gets a recommendation from the governor, it signifies that at least three of the five board members believe the applicant is worthy of a pardon. While the governor is not obligated to act upon these recommendations, these indicate that candidates have garnered substantial support from the board.
The recipients of such recommendations can anticipate receiving a pardon from the governor within three to six months, providing a fresh start and an opportunity to leave their past behind.
Here is a link to a letter writing campaign to encourage Governor Shapiro to sign Pardons that have been 'recommended' to him by the Board.
Processes Are Changing
Efficiency remains at the forefront of the board's objectives, and they're achieving this by broadening the scope of cases eligible for expedited review. Specifically, non-violent and marijuana cases over a decade old are being streamlined, potentially reducing the review period to as little as one year, as opposed to the standard two-year timeframe.
The board is currently conducting interviews with applicants and providing advanced notice of interviews. This proactive approach aims to accelerate the overall process. Progress is tangible, as evidenced by the scheduling of merit reviews in November 2023.
Pennsylvania Pardon Process Leading the Nation
In the realm of criminal justice reform, Pennsylvania's Board of Pardons is making waves with its innovative approach to expediting the pardon process. With a commitment to efficiency and fairness, the board is driving significant changes poised to transform the lives of individuals seeking pardons and expungements.
What's particularly noteworthy is the Board of Pardon's recommendation system. When a case receives a 'recommendation', it is forwarded to the governor with a 'recommendation' that the Governor issue a pardon.  It signifies a significant level of support from the board members. This approach empowers applicants by providing them with tangible feedback on the strength of their application. While these recommendations do not bind the governor, they carry substantial weight and indicate a strong likelihood of receiving a pardon.
Finally, an aspect that cannot be overlooked is the board's use of technology. The introduction of an online expedited marijuana pardon application portal was a step toward streamlining the application process. However, leadership changes led to re-evaluating these cases and the online system is still being developed. Still, this technological approach shows the board's dedication to ensuring the system becomes more efficient and fair.
Pardon and Expungement Updates, Interviews, News, and More
Record Eraser's team discusses these latest updates in detail on our growing YouTube channel. Here, you will learn more about the pardon and expungement processes and similar matters. Visit our page now and subscribe for more engaging videos and content!
How Records Eraser Can Help
Pennsylvania's evolving landscape of pardons and expungements holds a lot of promise for individuals seeking a fresh start. Now, those who have a minor criminal history have hope for a clear name and forgiveness for their convictions. 
To make your expungement process easier, Record Eraser is here to help. Mark F. Walmer — our pardon attorney — and the rest of the team can help you see the best options for your situation and start the necessary steps. With streamlined processes, proactive approaches, and a commitment to holistic support, we aim to guide individuals toward brighter and more hopeful futures. Contact us now and tell us your story!
An Expungement is what actually clears the criminal record from the database after you receive the Pardon. Then your record is erased!
Erase Your Record With Confidence by Clicking "Research My Record"
A fresh start awaits you when you undergo the PA pardon process. However, you'll need help. That's where we come in.
At Record Eraser, we believe that you deserve a fresh start. Tell us your story, and erase your record with confidence!