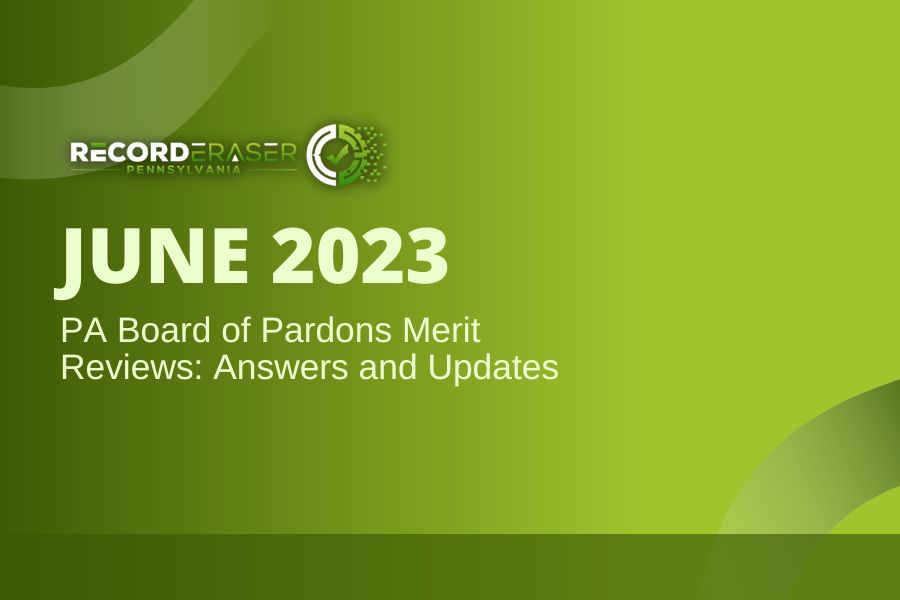 If you are looking to wipe the slate clean on your criminal record in 2023, Record Eraser has some excellent news for you.
Recently, the PA Board of Pardons has ramped up several aspects of its processes to expedite the review process.
From hiring more staff to designing a place to get a pardon online, the board is doing what it can to help individuals like you start fresh.
Does this sound like something you'd like to know more about? Read our latest updates on the PA Board of Pardons Merit Reviews. For a limited time, we're offering a 10% discount for pre-paid expungements to all BOP-recommended pardon recipients. Take advantage of this deal while you can!
Recent PA Board of Pardons Update
In June 2023, the PA Board of Pardons made significant strides in streamlining the pardon and expungement process. The board has expanded its team by hiring additional personnel and is now reviewing a higher number of applications — and at a faster rate than ever before.
Moreover, they are planning the launch of an online platform to enhance accessibility and convenience for applicants. This is excellent news for anyone seeking to secure an online pardon. This new development will also benefit the board as it allows it to process more applications.
The recent developments signify the board's proactive approach to granting candidates a second chance.
Public Session Recap
The recent public sessions held by the PA Board of Pardons allowed individuals who had received two out of five votes to present their cases before the board. These sessions shed light on the intricacies of the pardon application process.
The board members posed various questions to the applicants. These questions ranged from inquiries about their rehabilitation and recovery from addiction-related crimes to their respect for the law and commitment to a law-abiding life.
The duration of these public presentations varied, with some individuals facing no questions, while others engaged in discussions for up to 10-15 minutes or even longer. It is crucial for applicants to approach these sessions prepared and take responsibility for their past actions. Doing both demonstrates to the PA Board of Pardons their dedication to personal growth and positive change. Doing otherwise can (and often will) affect the board's decision.
Pardon and Expungement Updates, Interviews, News, and More
Throughout the three-day public session review, the board meticulously assessed over 120 cases, recommending over 80% of them to the Governor for a pardon. This encouraging statistic highlights that now is an excellent season for filing pardons in Pennsylvania. The board's dedication to reviewing applications and making fair decisions demonstrates its commitment to helping individuals with criminal records reclaim their lives and reintegrate into society.
As an observer of these public sessions, our team at Record Eraser closely monitored the board's questioning patterns, areas of interest, and decision-making criteria. This valuable insight enables us to better assist our clients by preparing them for potential questions and helping them present their cases in the most favorable light.
We understand the nuances of the pardon application process and stay updated on any changes or developments to provide our clients with accurate and reliable guidance.
How Record Eraser Can Help
The PA Board of Pardons is doing everything in its power to give individuals with a criminal history a second chance. However, despite this, you will still need guidance and outside assistance with the expungement procedure.
At Record Eraser, we are passionate about supporting individuals seeking to clear their criminal records in Pennsylvania. Our team of experienced professionals specializes in navigating the complex legal landscape and maximizing the chances of a successful outcome.
Whether you require assistance with the pardon application process or need guidance on expungement eligibility, we are here to help. Our personalized approach ensures that each client receives tailored advice and dedicated support throughout the entire process.
We stay up-to-date with the latest information from the PA Board of Pardons and Department of Corrections and provide regular updates to our clients. By doing so, we can help you make informed decisions about your criminal history and record.
Erase YOUR Record With Confidence
If you need a pardon attorney to help you with your record expungement, look no further. Tell us your story and click "Erase My Record."
Let Record Eraser help you get a clean slate and move on to a better and brighter future in PA.