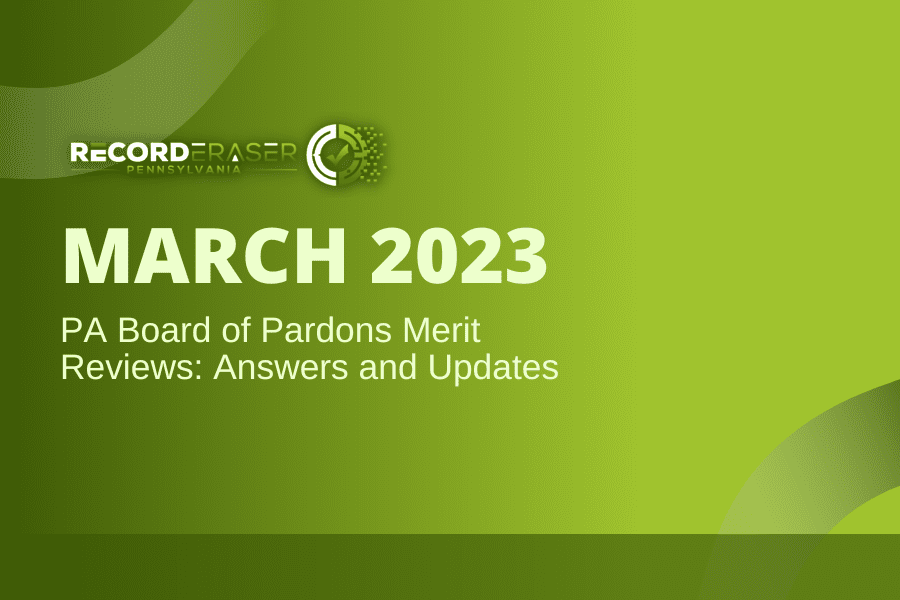 Were you or your loved one incarcerated in the past, and think you deserve a clearing of your criminal record? A criminal history or record can impact many aspects of your life, including employment opportunities and education.
Fortunately, Pennsylvanians can file for an expungement petition through the PA Board of Pardons' online application. However, some individuals are using this to victimize families in PA. Hence, the agency issued a scam alert to warn the public.
Record Eraser brings you this announcement as we are committed to delivering the latest updates surrounding the PA Board of Pardons. Additionally, we provide updated public hearing schedules or regular meeting schedules for merit reviews.
This article will discuss relevant information about the scam notice. We aim to protect you from becoming victims of these scams.
Recent PA Board of Pardons Updates
The Pennsylvania Board of Pardons is a five-member body that reviews criminal cases and makes recommendations to the Governor of Pennsylvania regarding clemency and pardon. In addition to convictions, they also have the power to expunge a criminal record.
The role of the PA Board of Pardons is significant. As such, they also post regular updates on their website. The most recent post is a notice about scam phone calls from government impostors. We want you to be aware of these fraudulent activities.
Scam Alert

Have you or your family member received a call from a law enforcement officer appearing to be associated with the PA Board of Pardons concerning an early release program? Acting Attorney General Michelle Henry advised Pennsylvanians to be aware of government impostor scams representing the PA Board of Pardons.
In the call, the scammer will attempt to convince you that your incarcerated family member has qualified and been accepted into an "ISPRP" program. Afterward, the impostor will ask you to make an advance payment for an ankle monitor, which your relative should wear to get out of prison. The notice reiterates that you should resist giving personal information to unsolicited phone calls.
Sometimes, these people will use fear tactics to ask for urgent payment via cash, debit cards, or wire transfer. The agency noted that legitimate agencies (like ours) never verify your information over the phone. If you received such an unsolicited call, the PA Board of Pardons has the following tips to avoid being a victim. For example:
Never provide your personal information over the phone to someone you don't know.
End the call if the caller asks for instant payment through online services like wire transfers.
If you are uncertain about the validity of the call, hang up and contact the agency for verification.
Don't call back any unknown number from a voicemail.
The department further said that if you have been a victim of this scam, you can file a complaint at the Office of the Attorney General's Bureau of Consumer Protection. You may also call the attorney general's office at (804) 441-2555.
Is Record Eraser a Legitimate Firm?

In line with this announcement, we want to clarify that Record Eraser is a legitimate agency that offers expungement services. We only call or email contacts from our website form where you ask us to contact you.
Furthermore, our firm doesn't represent incarcerated individuals. Thus, if someone contacts you about your family member's eligibility for release on an ankle monitor, it's not a service we offer.
New Board of Pardons
The PA Board of Pardons continues to release helpful updates. At times, there may be confusing information, but Record Eraser will take the time to explain them to you. In addition to expungement news, our experienced attorney also answers some of the associated pardon questions.
To ensure you don't miss them, subscribe to our Youtube channel.
How Can Record Eraser Help?
Do you want to part with your criminal past and improve your life? While you have the chance to clear your criminal history, the process and public session can be complex and exhausting. You need an expungement attorney who can give you excellent representation and increase your chances of having your petition granted.
To find out if you qualify for pardon or expungement in PA, talk to the experienced staff at Record Eraser. We work with the Department of Corrections and the Board of Pardons to expunge your criminal record and initiate your pardon online.