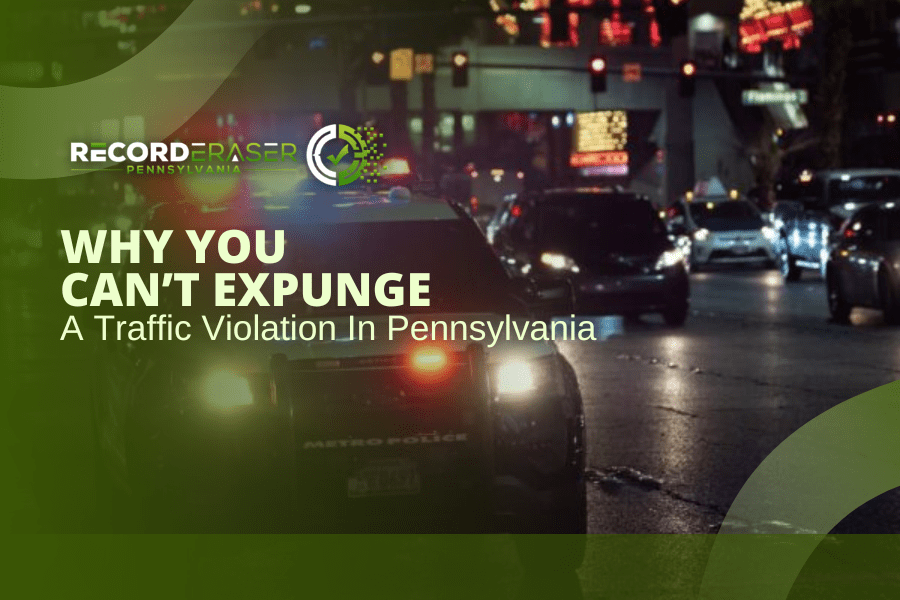 So, can you expunge a traffic violation in Pennsylvania? In general – no.
Traffic violations encompass several major and minor traffic offenses that lead to fines, costs, or suspension. They can be as simple as beating the red light and receiving a ticket. Meanwhile, law enforcement authorities also issue criminal offenses, including felonies and misdemeanors, with the possibility of jail, fines, or probation.
Types of Traffic Violations
Traffic violations involve violations of a particular statute, the Motor Vehicle Code. Some of these tickets or violations are as follows:
Running a Red Light or Stop Sign
Beatng a red light or ignoring a stop sign are considered hazards. While this may seem like a minor offense, it can cause more severe consequences, such as fines, points and license loss.
Reckless Driving
Reckless driving is the intentional disregard for one's or other people's safety. This may include eluding or racing police officers. Regardless of the reason behind reckless driving, it is still considered a traffic violation by all states, and involves a mandatory loss of license in PA.
Speeding
Speeding laws may vary per state, but if you go beyond the speed limit imposed within the said highway or road, you're already considered speeding. The penalty and fines still depend on your state laws or city ordinances. In PA, you will get points, fines and possible license loss.
Getting Pulled Over 
So, once you're pulled over for the mentioned violations, they will inspect and investigate your vehicle to see whether you're committing a heavier offense, such as a DUI or unlawful possession of marijuana.
This will, in turn, give them probable cause to perform a more thorough investigation of your vehicle and your sobriety. This is how criminal offenses are borne out of simple traffic violations.
How Traffic Violations Can Affect Your Criminal Records
Any summary traffic offense in PA will be recorded in your Pennsylvania driving history. Thus, if you are charged with a summary offense and plead guilty, this will be written into your driving history. Although, you will be relieved to hear that it will not appear on your criminal record. However, if a crime is filed for a traffic offense, it will go on your criminal history and driving record.
Any violation of the Motor Vehicle Code will immediately be recorded in your driving history. When a felony or misdemeanor is committed, it will create a criminal history. These are the things to note in determining what will be recorded in your driving and criminal history.
Violations of the Motor Vehicle Code will only state the violation's name, the offense's date, and the citation number. Thus, your driving history accounts for your traffic code violations — whether they're misdemeanors, felonies, or summaries.
Do Traffic Misdemeanors Go Away?
According to the expungement law, a pardon from the governor is the only way to have criminal convictions expunged from your records.
On the other hand, driving histories cannot be cleared. PennDOT does not allow any erasure of driving violations from the records. This is contrary to criminal histories that can be expunged after obtaining a Pardon.
Nonetheless, your driving history will stay intact and untouched as laid down by the rules of PennDOT. The only exception is if you have traffic offenses that accompany a DUI into the ARD program where you receive probation without conviction.
Learn more about getting a pardon in PA
Can Traffic Offenses be Expunged?
No – PennDOT does not expunge records. For instance, if somebody gets a DUI for the first time, which is a misdemeanor traffic offense in PA, and then goes into the ARD program, the criminal charges will be expungeable. The ARD program is probation without conviction.
Regardless of the expungement process of the DUI from your criminal record, your driving record will still state ARD and it's given date. According to PennDOT, a person's driving history will serve as a way of tracking DUIs and future offenses. This is why they cannot be expunged.
Criminally Recorded Traffic Offenses: Can They be Expunged? 
What are criminal and traffic records? Can they be expunged? 
Criminal records are issued for misdemeanors and felonies under the crimes code or the motor vehicle code. Most traffic citations are written as summary offenses under the Motor Vehicle code and will not appear in your criminal history, but only in your driving history. While driving records cannot be expunged,  criminal summary offenses can be, like Retail Theft, Underage Drinking and Disorderly Conduct.
Do traffic misdemeanors show up on criminal background checks? 
Yes – background checks frequently include driving records, although it depends what service is being used.  Any time the word 'misdemeanor' or 'felony' is used, it indicates criminal charges and possibly criminal convictions.  That creates the possibility of a Pardon on those convictions at some point.
After the Pardon, and the expungement, the criminal record will be cleared.
Learn more about getting your PA record expunged
What to Do When The Record Affects Your Life
The best way to deal with traffic charges and records is to contact an experienced lawyer or defense attorney before you plead. Most attorneys have a vast knowledge of traffic offenses, laws, and penalties and offer consultations. If you plead guilty, your first notice of penalties may be when you get a suspension notice from PennDOT.
However, lawyers know better ways through the process. A defense attorney can tell you what traffic violations have fines, points and suspensions.
Are You Eligible to Expunge a Traffic Violation in Pennsylvania? 
Do you want to know whether you're eligible for an expungement? Get in touch with us and talk to one of Pennsylvania's best expungement attorneys to help you reclaim your life and erase the taint of the past from your records. We have earned a great reputation for helping clients go through the ordeal of clearing their names, and we're committed to doing the same for you.