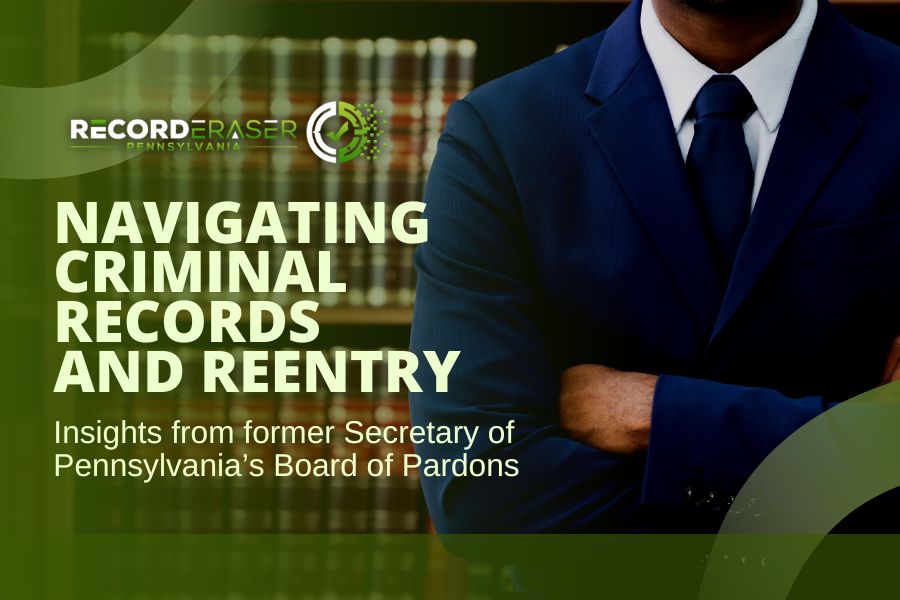 When navigating the complex world of criminal records and reentry in PA, there's no better guide than someone who has been deeply involved in the process. In a recent interview, we sat down with Brandon Flood, the former Secretary of Pennsylvania's Board of Pardons.
With his wealth of knowledge and experience, Flood provided invaluable insights into the challenges individuals with criminal records face, the importance of reentry support, and the impact of legislative changes on those seeking a fresh start.
This blog post will cover the highlights of our conversation with Brandon Flood and how individuals with criminal records gain opportunities to help them move forward.
Challenges in Criminal Records and Reentry
One of the significant challenges in criminal records is the inaccuracies and discrepancies that can arise, particularly in the digital age. Flood highlighted the issues with relying on the Unified Judicial System (UJS) portal, which may not provide accurate or up-to-date information.
Flood emphasized that the UJS portal has posted a disclaimer that the data presented in the portal should not be relied upon for criminal background history purposes. The portal includes many inaccuracies and omissions, which can lead to false positives during background checks. There is also a need for more maintenance and continuous system updates.
As he pointed out, these inaccuracies can lead to misunderstandings and omissions, especially in older cases. This issue can create hurdles for individuals hoping for successful reentry into society.
State Police Administrative Backlog
A critical factor affecting the accuracy of criminal record reporting is the administrative backlog within the Pennsylvania State Police. When Flood took the position, former Secretary Nemo told him the backlog of pardon applications was "never-ending," and there were only five to seven staff members at the time.
He was able to lobby for digitizing the pardon process, which he mentioned as a "labor-intensive project," to automate the process, increase efficiency, and reduce backlogs. He estimates that the digitization process is at 65% to 75% of its completion, with conversations about human resources, potential bottlenecks, and finding the right quality product ongoing.
Flood discussed how this backlog impacts various processes, including firearm background checks (click here to learn how to restore gun rights in PA). It not only strains the State Police's resources but also contributes to delays in accurate record reporting. This situation affects employment outcomes, prospects, and other aspects of individuals' lives.
The Lazarus Firm and Its Services
Flood introduced us to the Lazarus Firm, an organization he founded to address the challenges of reentry and provide essential services to individuals seeking a fresh start. He described the Lazarus Firm as a "one-stop shop for reentry," offering guidance through the complex executive clemency process.
Flood emphasized that the organization's focus extends beyond record clearance, including assistance with employment discrimination issues and advocating for reentry-friendly screening policies. All this effort is to support individuals with criminal convictions and allow them to become more successful in their efforts to normalize their lives.
CHRIA and Employment
The conversation also delved into the Criminal History Record Information Act (CHRIA) and its relevance to employment considerations. CHRIA set clear and strict standards for Pennsylvania-based employers, prohibiting them from considering certain non-conviction information when making employment decisions.
Flood highlighted the importance of educating employers about suitable criteria for evaluating criminal records during hiring. The Lazarus Firm plays a vital role in challenging employers' inappropriate use of criminal records, ensuring that individuals are not unfairly terminated or disqualified from job opportunities (read more about the impact of criminal records on employment).
Online Records and Expungement Challenges
Even after obtaining pardons and expungements, individuals may encounter challenges related to online records. Pictures of mugshots or criminal records can remain online long after the person has been granted a pardon.
Flood shared his own experience of being denied housing after getting a pardon. Many may not know that he was convicted of possession with intent to deliver cocaine at 17 and a firearms violation at 22. At the time, his records still needed to be expunged, and he was denied housing despite being pardoned. Fortunately, he convinced the landlord to reverse the decision after submitting a copy of the UJS portal disclaimer and his charter for clemency.
This issue underscores the need for continued efforts to address online record retention and give individuals a genuine opportunity for a fresh start. Those once a part of prison populations may not be as lucky or persuasive as Flood was.
Collaboration and Advocacy
Throughout the conversation, Flood emphasized the importance of collaboration in addressing the challenges of reentry and improving the clemency process. There are many people involved in criminal justice and reentry, each with their areas of expertise, perspectives, and opinions.
Collaboration between the various stakeholders is critical to developing meaningful solutions. One solution is giving different lanes and levels of review to petitioners. Flood said, "There's no reason why someone who has a shoplifting case from 15 years ago should go through the same process that a lifer is going through for commutation." In the same way, he emphasized that non-sexual and non-violent offenders should not be going through the same process as those convicted of violent crimes.
Flood highlighted the need for continued education efforts to dispel misconceptions surrounding individuals with criminal records. Flood's work is a testament to the impact that individuals and organizations can have when they come together to advocate for change.
As a former criminal who got a second chance, Flood advocates for other ex-offenders. He has devoted his life to helping people who have been formerly incarcerated gain a sense of hope, perseverance, and success. His story serves as an inspiration to others to keep pushing forward despite the challenges they may face.
Conclusion
The interview with Brandon Flood provided a comprehensive and insightful exploration of the complexities surrounding criminal records and reentry. Flood's expertise, gained through his experience as the former Secretary of Pennsylvania's Board of Pardons, shed light on the challenges individuals with criminal records face and the critical need for support in their reentry journey.
As Flood shared his experiences and insights, it became clear that there is much work to be done to create a fair and just system that allows individuals to move beyond their past mistakes and contribute positively to society.
If you're wondering, "When do my criminal records clear?" or "How do I get my criminal record expunged?" Record Eraser can help. We assist those with criminal records in PA to understand their rights and potential paths for a fresh start.
Everyone deserves the opportunity to rebuild their lives. With the proper support and resources, successful reentry outcomes are possible for all individuals, even those with criminal convictions.
Run your PA criminal record through our Research My Record tool and connect with one of our experts to receive personalized advice on your situation. Contact us today to learn more!