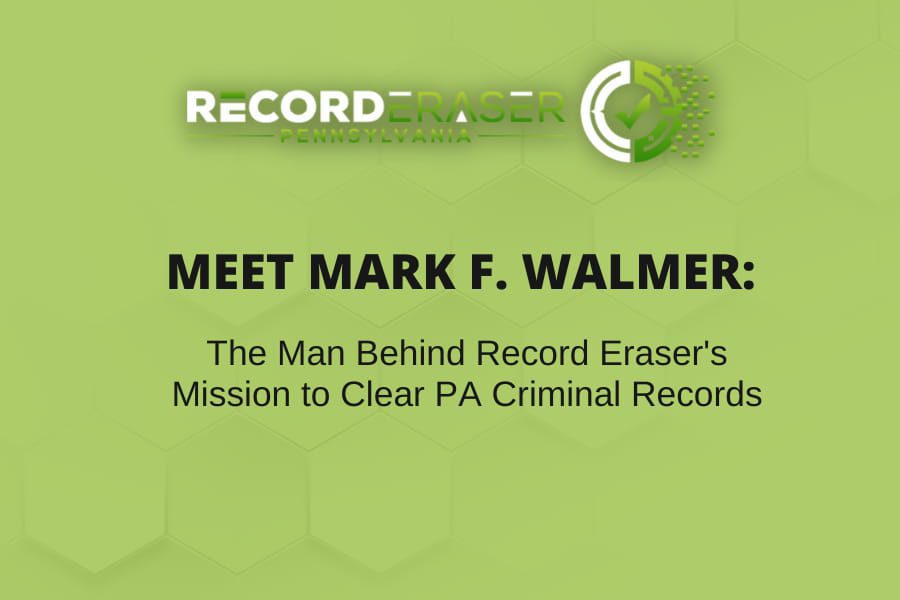 Criminal convictions deal significant life-altering consequences, so signing a plea deal might sound like a sweet release from a nightmarish condition.
Unfortunately, beyond the courtroom, criminal records remain a constant reminder of past mistakes and can continue to haunt individuals through employment discrimination, housing denials, and more.
Mark F. Walmer founded Record Eraser to provide a fresh start for anyone dealing with such circumstances. With his expertise as an expungement and pardon lawyer in PA, he released countless clients from the burden of their criminal records.
Walmer came from humble beginnings before he realized his passion for helping individuals with criminal records. In this post, we'll uncover the history of the man behind Record Eraser and his undying devotion to fairness, truth, and second chances.
If you're curious or confused about the entire pardon and expungement process in PA, you can refer to our resources for more clarity about this topic. Educate yourself so you'll know how you can better protect your rights.
Getting To Know Mark F. Walmer
Mark F. Walmer was born and raised in Elizabethtown, Pennsylvania. He went to Elizabethtown Area High School for his high school education, then went to Pennsylvania State University to complete his tertiary education. He later moved to Boston after graduating with a philosophy degree.
Moving to Boston was a significant challenge to Walmer as he didn't have a stable and regular job. He jumped around, trying to get through America's Walking City. For four years, Walmer had been an electrode mechanical assembler, a maker of glossy prints, a Kodachrome salesman, and a camera repair shop manager.
Walmer was not a local Irish Catholic with an unfamiliar last name, making it hard to establish credibility among his peers. His bachelor's degree in philosophy also did not help him find stable, long-term jobs.
His experience in Boston pushed him to make another big move to Concord, New Hampshire, where he started attending law school to earn his Juris Doctor title.
While attending law school, Walmer worked at the local VHS tape store. There, he learned how to cut, mix, and review tapes. He eventually made a production video for the National Academy of Science.
What Are Some of His Interests and Are There Any That Tie to What He's Doing Today With Pardon and Expungement?
Walmer is known to possess an extensive range of knowledge and unique interests. During this time as a camera repair shop manager, he would tinker with professional SLR, or single-lens reflex, cameras. As an aspiring camera tech, he would disassemble these cameras and assemble them all together expertly.
Besides tinkering with professional cameras, Walmer is also a musically-inclined individual who occasionally plays guitar. As a philosophy degree holder, Walmer is a deep thinker and loves the companionship of a good book.
Walmer is a voracious reader who loves exploring books across any genre. Walmer is also passionate about short-range road running and aspires to participate in a 5k or three-mile run.
Walmer is a compassionate individual with a deep sense of fairness and empathy for all people. He grew up in a household where fairness and candor were instilled values. He believes in the power of communication and how it can bring out positive change, and his passion for fairness and justice drives his mission to complete his legal study.
Why Did He Become an Attorney?
Mark F. Walmer started attending law school out of a noble cause. While working as an electrode mechanical assembler in a blood-sensing company, Walmer was surrounded by many immigrants from various cultures. As Walmer spent time with his co-workers, he developed a sense of closeness with them.
One day, he discovered the vast discrepancy in their salary range. Walmer consistently received reviews and pay raises, but his immigrant counterparts didn't. As someone with an inherent sense of fairness, he couldn't help but speak with their manager about the situation. His manager quickly dismissed him, and that ignited his passion for pursuing law.
While he was in law school, Walmer saw the different facets of the world and the flaws in society. His desire to help and make the world slightly better led him to change goals multiple times. First was immigration law, then environmental law, until he landed on criminal defense law.
As a philosophy major, he always looked at people from an interesting point of view. This made him a great criminal defense attorney and advocate for his clients. He believes that everyone is entitled to second chances and that people deserve a second shot at life. This drive and ambition made him the lawyer that he is today.
What Did That Whole Transition Period Look Like?
After law school, Mark F. Walmer became an excellent and reputable trial lawyer. For over 30 years, Walmer has been prosecuting and defending criminals in court. However, during his three decades as a trial lawyer, Walmer witnessed countless guilty pleas where the defendant nonchalantly agreed to the terms without knowing the full consequences.
Many defendants don't know the collateral consequences they would face after pleading guilty to their crimes because the presiding judge won't explain their circumstances in complete detail.
Some potential effects are the inability to gain stable and regular employment, scholarship rejections, landlords refusing to rent them apartments, and many more. Not to mention the public access to their criminal records with just a simple search.
In 2008, Walmer quit his profession as a trial lawyer and worked as a public defender to protect defendants from these scenarios. He started working on expungement and pardon cases, where he helped people keep their criminal records clean. He aims to provide everyone a second chance to make things right and lead better lives.
Why Does He Care About Pardon and Expungement Services?
Mark F. Walmer has always been passionate about fairness and justice. He believes everyone should understand what they are getting into when making legal decisions. He advocates open communication and transparency, especially in the criminal justice system. His core beliefs and talents made him a successful pardon and expungement lawyer.
With this devotion, he helped countless defendants clear their names in criminal history record checks and the eyes of the general public. With this, he uplifted the stigma surrounding those who pleaded guilty and gave them a chance at various employment, housing, and scholarship opportunities.
Walmer is a staunch believer in second chances, which drives him to continue pursuing his mission of helping people get back on track. His mission of helping a defendant be free from hopelessness during a criminal history background check was a massive success, which later catapulted him to start his own firm.
The Birth of Record Eraser
In their own words, Record Eraser is a Lancaster-based PA criminal records cleaning service. Mark F. Walmer founded the company in 2013 after he successfully helped countless local convicts erase their criminal records in PA.
Record Eraser is a full-service agency with years of proven experience in the pardon and expungement process. The firm offers services like expunging criminal records, sealing juvenile records, and applying for pardons from Pennsylvania's governor. With their help, applicants can regain their rights to vote, bear firearms, obtain better employment opportunities, and get back on their feet.
Walmer and his team are dedicated to helping people erase their criminal records and ensure that justice sides with them this time around.
Nowadays, Mark's team continuously serves Pennsylvania residents in applying for pardons, expunging criminal records, and obtaining legal rights they never thought they'd have again.
They help their clients understand the repercussions of a criminal record and how Record Eraser can wipe their slate clean so they can restart their life.
In Conclusion
The criminal legal system is an intricate structure with various implications and moving parts, and it can be challenging for someone to understand all its nuances.
Defendants who are faced with the option to plead guilty to lesser charges and penalties are unaware of the lifelong implications of their decisions. It's also unfair on the defendant's part that the judge reading their charges often fails to disclose these consequences in full detail.
Because of this, many convicted defendants are left in shock when they receive countless rejections from loan or scholarship applications and rental properties due to their criminal records.
If you're looking for a reliable and experienced pardon lawyer in Pennsylvania, fill out the form to work with Mark Walmer's team at Record Eraser today and shoot for a second chance. Tell us your story, and we'll help give it a happy ending.
Are you interested in how we review records and clear them in PA? Learn more about the expungement process in the state here.